Olivia's Storytime Favorites…
One of my biggest hopes for Olivia is that she grows up with a love for literature. This is probably because I love to read so much and was always encouraged by my parents to pick up a book. Thankfully Olivia has quite the collection of books already, and I hope to keep growing that collection over the years. While she doesn't quite understand stories yet, she loves listening to me read to her and is very enthusiastic about turning the pages. She has even taken a few bites out of the pages, which I'm hoping is an early sign that she just can't get enough of her books. Fingers crossed!
Below is a list of some of our favorite books so far. Obviously, Olivia didn't voice her opinion for this post, but these are the ones that she loves to "read" herself, or ones where she will actually sit and pay attention for the whole story.
Gaston by Kelli Dipucchio – This is the story of four puppies: Fi-Fi, Foo-Foo, Ooh-La-La, and Gaston. Gaston works the hardest at his lessons on how to be a proper pooch. He sips — never slobbers! He yips — never yaps! And he walks with grace — never races! Gaston fits right in with his poodle sisters. But a chance encounter with a bulldog family in the park — Rocky, Ricky, Bruno, and Antoinette — reveals there's been a mix-up, and so Gaston and Antoinette switch places. The new families look right, but they don't feel right. Can these puppies follow their noses — and their hearts — to find where they belong? (From the Scholastic website)
I love this book because it's wonderfully illustrated and is a sweet story about adoption – even though it involves dog families (fun fact: I'm actually adopted). Also, throughout the book they constantly repeat the dogs' names, and over time I've caught Olivia trying to say them. The story is nice and short, so it will keep your toddler's (or baby – we've been reading this one to her since she was a couple months old) attention, which is important at this age.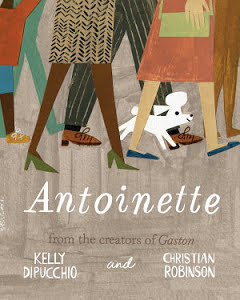 Antoinette by Kelly Dipucchio –Antoinette's three burly brothers each have a special talent. Rocky is clever. Ricky is fast! And Bruno is STRONG. Mrs. Bulldog reassures Antoinette that there is something extra special about her—but Antoinette is not so sure. Then one day, while Antoinette plays in the park with her friend Gaston, Gaston's sister Ooh-La-La goes missing. Antoinette feels a tug in her heart and a twitch in her nose. She must find Ooh-La-La. She will not give up! (from Amazon's website)
I'm always a sucker for a sequel, so it's no surprise I ordered the companion to Gaston, the book I previously mentioned. This story is a lot different from the original, but it still has the same cute characters and illustrations like the first.
i See Me! Personalized Children's Books – One of my very favorite gifts that Olivia has received was a personalized book from our friends, Kendal and Alex. You can choose from all kinds of books (even coloring books!) and have them personalized with the child's name and even pictures. Olivia has the Goodnight Little Me book with her name on the cover and throughout the book. On the inside cover it even has pictures of her with Kendal and Alex, her birth date and a sweet message from them. I remember when I was little I had a book like this, and I always thought it was so cool to have a book that was made just for me. It is such a sweet gift that I know she is going to treasure for years!
Little People Big Dreams Books by multiple Authors – With stylish and quirky illustrations and extra facts at the back, this empowering series celebrates the important life stories of wonderful women of the world. From designers and artists to scientists, all of them went on to achieve incredible things, yet all of them began life as a little child with a dream. These books make the lives of these role models accessible for children, providing a powerful message to inspire the next generation of outstanding people who will change the world! (from Waterstones website)
We currently have the Rosa Parks & Marie Curie books and love them. While they aren't a complete history, they are a great introduction to important women who changed history. I feel like it is never too early to introduce Olivia to stories like these, and I'm glad they have made these wonderful books for young children. Though I will warn you, I have seen reviews about the some of the books (Frida Kahlo, for example) where people were concerned about how some of the books portrayed death, and that they might be scary for young children. Something to be aware of you're looking online!
The Pout-Pout Fish by Deborah Diesen – Mr. Fish has a frown on his face — a permanent frown. As he drifts from one spot to the next, his droopy expression never changes. One by one, other sea creatures approach him, telling him he should be happier, but he always has the same reply: "I'm a pout-pout fish with a pout-pout face, so I spread dreary-wearies all over the place." Being glum, it seems, is his destiny. Then one day a new friend tries something unexpected: She kisses him! From that moment on, Mr. Fish realizes that he isn't a pout-pout fish after all. He's a kiss-kiss fish, and he spreads cheery-cheeries wherever he goes. (from the Scholatic website)
This is a funny book (that my husband reads in funny voices) with some funny, repetitive words. It comes as a board book, which is a plus for Olivia since it's easier for her to turn the pages. The Pout-Pout Fish is a series of books, but as of now we have only read the first one.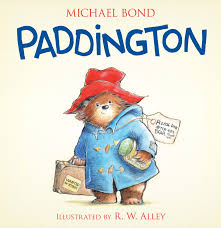 Paddington by Michael Bond – Long ago, a small bear from Peru set out on the adventure of a lifetime. With nothing but a suitcase, several jars of marmalade, and a label around his neck that read, "Please Look After This Bear," he stowed away on a ship headed for faraway England. When the little bear arrived at London's busy Paddington Station, he was discovered by Mr. and Mrs. Brown. As luck would have it, the Browns were just the sort of people to welcome a lost bear into their family. (from the Scholastic website)
To be honest I probably picked this one because it was one of my favorite books when I was little. Paddington is such a lovable character that goes on several adventures throughout his books. I also love that you can get these books in the board format, which is easier for a toddler to "read", and less easy for them to destroy!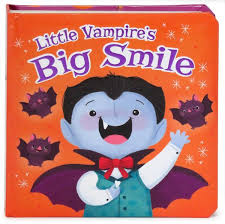 Little Vampire Big Smile by Rosa Von Feder– Did you know that the tooth fairy visits little monsters, too? Meet Little Vampire and his adorable monster friends! With fun characters and a simple story line, this chunky little board book supports early literacy skills. (from Cottage Door Press website)
I randomly found this book at HomeGoods (which is great place to find discounted books!) while visiting a friend in New Hampshire last fall, and it's been one of my best finds! It's a cute little story, and it has truly been one of Olivia's favorites just from an entertainment aspect. When she was younger we used to give her the book when we went out to restaurants, and she would flip through it for a hour or more. I'm not sure why she loved it so much, but it's still one of her favorites.
Claudia and The Moth by Jennifer Hansen Rolli – Claudia loves butterflies. Blue ones. Yellow ones. Purple ones with dots. And since she can't take them home, she paints them in all their beautiful colors. But when winter comes, there are no more butterflies to paint…until she finds a little moth. Suddenly, Claudia sees winter in a whole new light. (from Barnes & Nobel website)
This is an endearing story about finding the beauty in everything. It's full of colorful illustrations that will hold the attention of your toddler.
Olivia by Ian Falconer – Olivia would be Eloise, if Eloise were a pig. She is good at singing 40 very loud songs and is very good at wearing people out. And scaring the living daylights out of her little brother, Ian, particularly when he copies her every move. She is also quite skilled at reproducing Jackson Pollock's "Autumn Rhythm #30" on the walls at home. When her mother tucks her in at night and says, "You know, you really wear me out. But I love you anyway," Olivia precociously pronounces, "I love you anyway too." (from Scholastic website)
I'm sure you can guess why I picked this book. I mean, the book is called Olivia. I also think it's funny that her brother's name is Ian, which is also my husband's name. She gets herself into some funny situations and has a very active imagination, but what I like is that Olivia seems to think outside of the box to solve her problems. This book also is also part of a series, and it's actually a TV show, too.
The Velveteen Rabbit by Margery Williams – The Velveteen Rabbit, a stuffed toy, waits in the nursery for a child to call its own. The other toys also wait for the day the boy will pick them for a playmate. As time goes by, Rabbit grows weary and worries that it will never be chosen. The Skin Horse, the oldest toy in the nursery, becomes Rabbit's friend and tells it how toys are transformed — become real — through the love of human beings. Will Rabbit be chosen — will it become real? (from Scholastic website)
This is probably one of my favorite books of all time, and I even have a page from the book (when the horse is describing what it's like to become real to the rabbit) framed and hanging in her nursery. My mom has a beautifully illustrated copy that I have yet to find online. I think this book has great life lessons that are told through the exciting idea that if you love your favorite toy enough it might become real one day. Actually reading the book as an adult can make me cry.
My Soft-and-Cuddly Animals (Baby Basics) by Xavier Deneux – The BabyBasics™ range encourages baby's first exploration of tactile and visual senses with books carefully keyed to the developmental stages of early childhood. BabyBasics™ books adapt to baby's changes in visual development, encourage tactile exploration, support hand-eye coordination, and develop a healthy sense of self-awareness. (from Amazon website)
This really isn't a story book, but a sensory book. It's all in black and white, and the animals in the books have different textures. Olivia still loves flipping through the book and feeling the animals. She even "woofs" at the wolf when she gets to that page. This would make a great first book gift for any baby shower.
These are just a few of our favorites, if you have some other great books finds please share them below!